Stow-A-Way plant screens and cloches are lightweight and easily stored. An ideal product for protecting new plants and seeds from birds and cats digging in freshly sown beds.
The Cloches offer excellent light frost protection and enables extra growth in early spring and helps growth on vege plants in autumn. Faster packet seed germination can be achieved when using the cloches similar to a small cold-frame. For heavy frost protection, use two screens with opened newspaper between. Ideal also, for keeping excess rain off newly sown seed.
Shade cloth can be used over the screens or replacing worn UV Covers and held in place with velcro spot stickers.
All units are easily anchored in place with 600mm Bamboo stakes.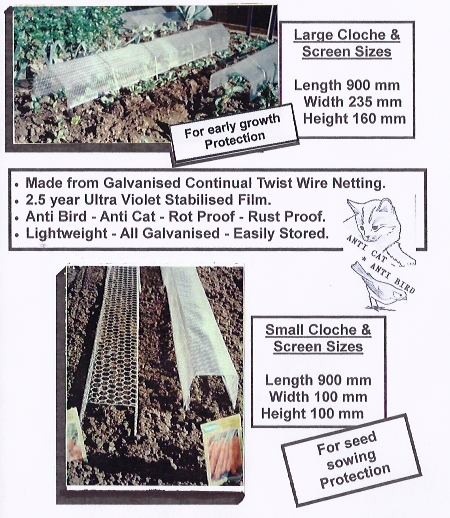 2 Sizes / 4 Units to Choose from.
Large U.V. Covered Cloche
Small U.V. Covered Cloche
Large Plain Screens
Small Plain Screens
Deleivered Country wide in a display carton holding 30 Units of any size screen or cloche.
Cartons of mixed screens or cloches should be orderd in multiples of 5 or 10 to a total of 30 as a minumum order.
Don't know which screens or cloches to buy?
Our biggest selling unit is our standard mixed carton.
Comprised of:
10 x Large Poly Cloche

5 x Small Poly Cloche

10 x Large Plain Screens

5 x Small Plain Screens
Contact us for updated prices.